A summer tyre that offers durable performance without compromise in terms of safety and driving comfort.
The Nokian Tyres Rotiiva AT Plus is excellent on asphalt, but it can also manage light off-roading and offer very good durability. The new tread compound ensures a longer life span. The re-optimised placement and support of the tread blocks, and the more aggressive design of the shoulder areas, improve driving stability. The versatile Rotiiva AT Plus is especially designed for heavy use on light trucks and pickups.
STABLE TYRE THAT OFFERS HIGH PERFORMANCE ON AND OFF THE ROAD
AGGRESSIVE TREAD PATTERN GUARANTEES EXCEPTIONAL GRIP AND HANDLING
STURDY STRUCTURE, NEW CUT-RESISTANT TREAD SURFACE

Officially approved for winter use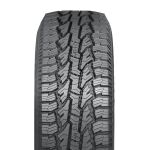 User opinions
Rated 4.5 based on 33 customer reviews
Stabilisers
Excellent handling
The stabilisers on the centre rib stiffen the tyre on road contact, allowing it to perform more smoothly and fluently. The driver can sense this in the excellent driving stability and the tyre's quick response to any steering movements.
3D siping
More stability
Increased driving comfort and grip. More durability. The 3D siping strongly stiffens the siped tread blocks. Unnecessary sipe movement stops, which further improves handling.
Cooling ribs
Slower wear, more kilometres
The cooling ribs designed on the shoulder area of the tyre reduce its heat generation. The ribs increase the durability of the tyre that enjoys poor roads and suddenly changing conditions, as lower heat generation means slower tyre wear, more comfortable driving, and more driving kilometres.